Blog
May 2012 Newsletter
Happy Thursday from
myTab
, your social travel gift card. We've been working very hard to past few weeks so here's the updated scoop:
>We received great
media coverage
but our favorite was from
Identity Magazine
, about what inspires you...the stuff that makes you shout 'I'm in it to win it!'
>We
won a BIG competition:
Agora
StartupIdol
Winning Trophy. 5 weeks judging, 80 start ups & we beat everyone else! Our pig logo twirled his tail like a propellor :)
>We hit our
1st anniversary
last Sunday. Well, we were still in stealth testing (until October) but if the Queen can have an official & unofficial birthday, so can we. Yep?
NEW FEATURES:
With our spring clean nearly finished, we are introducing two new amazing new features:-
hotel only booking
and a fantastic
loyalty program
. Our hotel only booking feature will be available next week including upgraded perks & new content by Expedia. Our loyalty program will kick off within the next 3 weeks, where you gain points for various actions on myTab and these points covert to hard cash that
WE
give
YOU

instantly
as a reward. It's the coolest program & we'll spill all details in next month's updates but if you want to be on the ball,
Like
&
Follow
us for immediate gratification updates!
AND NOT FORGETTING...:
Check-In
on our
Facebook
Web App
and see which friends are in the same city as you. Now, you can create even more spontaneous travel memories with each other.
Fathers Day
&
Graduation Season's
coming up so get gifting & send someone you love far, far away!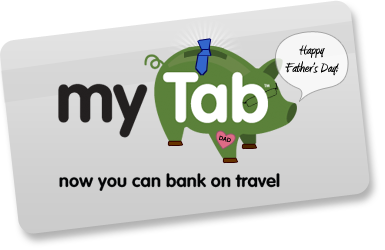 STUDENTS - WIN TRAVEL CASH!:
We partnered with
Study Abroad Blog
to run a competition: every 2 weeks, we're giving away $50 travel cash to a lucky student towards their travels. Yes, every 2 weeks!
MAY VIDEO:
Emma & Mark are still on sabbatical since they didn't pay their SAG Actors Union fees and did a runner. They'll return very soon so in the meantime, relish in the breather!
Want to tell us your travel tales? Like to be featured on our blog post? Have suggestions & idea? Zap us over an email to:
speakup@mytab.co
With myTab
, save travel cash and shout 'put it on myTab' so friends & family can contribute towards your trip (birthdays, honeymoons, celebrations etc). Then simply redeem the funds towards travel, all within myTab.co. We're the
ONLY
site that helps dream trips become true with funding, planning & booking. Brilliant :)
blog comments powered by

Disqus
Back to Blog